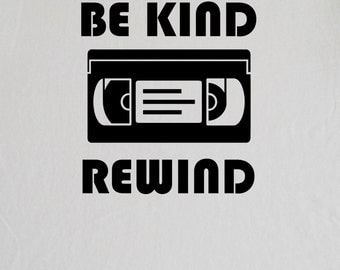 Back in the 1980's, when I was a teenager, we had these machines called VCRs.  We used VCRs to watch movies on large cassette tapes ("What's a cassette?" you ask.). In order to watch the movie again, you needed to rewind the cassette back to the beginning.  We rented these cassettes from stores which allowed us to keep the cassettes for about 2 days.  After 2 days you needed to return the cassette so the next person could watch the movie.  If you were kind, you would rewind the cassette before returning it to the store.
*********
I wonder if Paul is repeating himself unnecessarily when he writes about the fruits of the spirit being forbearance AND kindness.
22 But the fruit of the Spirit is love, joy, peace, forbearance, kindness, goodness, faithfulness, 23 gentleness and self-control.
What is the difference between forbearance and kindness?
**********
I'm listening to a series of meditations on desire led by Oprah and Deepak Chopra.  Oprah said this:
"Grace: the unchanging, constant kindness of the universe."
***********
"What is kindness?" I keep wondering.
Is kindness doing something with/for a friend even though I would rather not do that thing?
Is it keeping my mouth shut (when I'd prefer to complain about the unilateral decisions made without my input) when someone refers to our divorce as "my choice"?
Is it telling someone they have spinach in their teeth?
Is it telling someone that their comment was racially insensitive?
**********
This Newsboys song made me think of kindness.  It reminds me of being on the phone with AT&T or Wells Fargo:
I bought a product they should not have sold
I called the helpline
They put me on hold
I've been waiting for an hour
Now my phones losing power
And I'm gonna explode
I hear 'How may I help you today?
I know a very rude answer, but I'm wondering, hey[Chorus:]
What if everybody talked like my friend Jesus?
If everybody loved like my friend Jesus
If everyone forgave like my friend Jesus
It would give the world a new beginning
What if this is like an early inning?I state my business
She puts me on hold
I'm back to thinking I'm gonna explode
And the dog wants dinner
And the music they're playing is the soundtrack of hell
You say 'two wrongs don't make a right'
Just try listening to Celine Dion all night
But if everybody talked like my friend Jesus
If everybody loved like my friend Jesus
If everyone forgave like my friend Jesus
If we want to mend world relations
Surely I can show a little patience
I've been waiting around for this world to change
Another day cut loose
Another lame excuse
I've got the why and how to start here and now
Then my cell phone drops the call
And I spew out vitriol
And as my fist goes through the wall
I here a voice say 'be the change you wanna see!'
Cause if everybody loved like my friend Jesus
If everyone forgave like my friend Jesus
What a changed world this could be
Starting now maybe I can start the change in me
But really….what WOULD Jesus do?
What WOULD Jesus do when a Unite the Right group gathers with tiki torches?
*********
Ephesians Chapter 4:32 – 5:2
32 Be kind and compassionate to one another, forgiving each other, just as in Christ God forgave you1 Follow God's example, therefore, as dearly loved children 2 and walk in the way of love, just as Christ loved us and gave himself up for us as a fragrant offering and sacrifice to God.
Follow Christ's example….WWJD (What Would Jesus Do).  Forgive.
***********
Sometimes I wish I was back in the 80's when a cassette tape told me what I had to do to be kind.  Today, it can be so hard to discern the path of kindness.  Certainly most of our leaders are NOT demonstrating kindness.
***********
Sunday nights are the best times of the week for me.  I make dinner for my family (my sons, my mom, my sis and her family).  I asked them what they thought kindness was.  Two smart alecs said, simultaneously, "The act of being kind."
We didn't come up with an answer, but we did go around the table (ages 4-74) and each one of us noted someone who did something kind this past week.
Turns out, even if our leaders aren't leading, there IS plenty of kindness ALL around us.
Up next….Goodness, what in the world is "goodness"?